The Power of "We"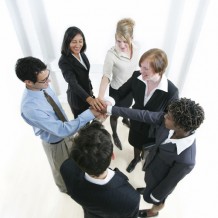 There is an old adage that there is no "i" in "team", yet it always surprises me how many times I meet a business owner who uses "I" and "my" right in front of their team. Yes, the same team that they hope will feel as connected to and engaged in the business as the owner is.
If you catch yourself referring to "My customers", "my store" or "my sales", stop yourself and take a deep breath and consider that the words "we" and "our" fall so much more gently on the ear and the soul than the words "I" and "my".
"We" and "our" engage and connect people. They create the bond of teamwork and inspire cooperation. So the next time you find yourself wishing your team would think more like entrepreneurs, make sure it's not those two tiny words that are stopping that message from getting through.
The same goes for introducing yourself at a networking event. Even if you are a sole-preneur, the words "we", "us" and "our" sound so much stronger than "I", "me" and "my". If you have an ongoing relationship with at least one supplier or sub-contractor, there really is a "we" because it means you don't do all the work involved in running your business. Bonus: your audience will feel that there's a solid team behind you and that you're in business to stay.