Sales Calls? Don't Fly by the Seat of Your Pants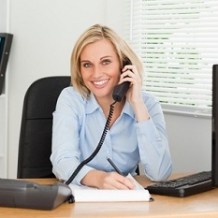 Have you been struggling with the quality of your sales calls? Or not making sales calls at all?
Well, if the answer to either question is "yes" then you're not alone. Many entrepreneurs hate making sales calls and try to avoid it entirely. Those who do make calls often struggle, wasting valuable time and energy and distancing themselves from potential clients.
There are three types of sales calls – service, prospecting, and face-to-face sales. For this blog, I'd like to focus on the prospecting sales call. Every prospecting call requires a purpose. When I ask people about that purpose, I tend to get vague replies, such as 'make a sale', or 'introduce a product'.
The truth is that it's rare that a prospecting call will lead to an immediate sale. And trying to introduce a product to someone without first assessing the need might alienate you from a perfectly good prospect.
When considering the purpose of your call, try to nail down exactly what you want to achieve. The more you narrow it down, the easier it is to measure your results.
For example, a prospecting call might be used for any of the following:
Identify the current vendor, the likes and dislikes of using that vendor, and what the prospect's challenges are;
Initiate contact, verify contact information and gain permission to provide more information or follow up at a later date;
Determine who the decision maker is (non-decision makers tend to be able to say 'no', but can't say 'yes');
Qualify someone as a good or not so good prospect;
Identify current and future needs; and/or
Book an in-person appointment.
There are, of course, many other possible objectives to a prospecting call, but you'll see positive, measurable results with better planning and crystal clear objectives. And … you'll find the calls easier to make. Bonus!
Happy prospecting!