Is That Great Idea an Opportunity or a Distraction?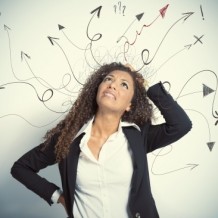 All through your life, as you succeed at one thing and another, what appear to be Opportunities will crop up. Friends will suggest them to you. You'll read an article and think, "That's a good idea. I should try that!"
How many times have those "opportunities" interrupted your focus on what is already working for you, only to prove to have been a waste of time?
So how can you separate the true opportunities from the distractions? That's an important purpose for a written business plan, however simple or complicated it needs to be for the business you want to build. Include these components and review regularly.
Set Goals. Until you know where you are headed, you can't tell if you are on the right track. Write down your goals to cement them in your mind and to refer back to, track and revise as necessary.
Determine Your Strategy. What marketing strategies will work best to achieve those goals? Will you focus on networking, affiliates, social media marketing, paid advertising, and referrals, or some other combination? What courses will you need to take to become competent in areas where you are less skilled? Will you have a one-person operation with sub-contractors as needed or will you build an enterprise with multiple locations and a strong leadership team.
Create an Action Plan. Write down the steps you will take in implementing your strategy. Prioritize, sequence, and set benchmark achievement dates so you build momentum and flow to your activities.
Document your Policies and Procedures. When you have decided how to do what you want to do, write it down. The more you are able to repeat successful processes, the less time and money you waste on re-inventing the wheel. Be open to better ways of doing things but keep your strategy in mind.
Now, Filter Each "Opportunity" Through Your Plan. You may meet a corporate executive who is interested in having you put together a course for his or her company when your primary target market is small business. Or a multi-level marketing consultant might offer you a chance to make more money and build a residual income. Are these opportunities or distractions? Only you can say.
If it's a distraction, simply say that it's not in your plans right now, but thank you for the opportunity. If it's a legitimate opportunity, maybe a bit early, or a natural transition that you hadn't thought of at this stage in your business, then discuss it further and map out the pros and cons before making a commitment.
Email me at MaryLou@MagneticBusinessSolutions.com for a free copy of my Business Opportunity Filter. Simply put Opportunity Filter in the subject line.