How to Stay on Budget When Temptation is High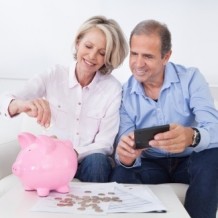 The pride of creating something unique and succeeding as a business owner is a huge driving force for entrepreneurs. It's the space we live in. Sometimes that pride leads us to do crazy things that can undermine our money management strategies – strategies that ultimately provide the time and money freedom we want and need to enjoy the other things in life that we love – time with loved ones, money for travel, education, hobbies, adventures, and ultimately retirement.
Whether you are trying to avoid overspending in your business or your personal life, here are a few tips to help you stay on budget when temptation is high:
START WITH A PLAN
Create a budget. Write it down. Think through what expenses you will almost certainly incur and anticipate the unexpected.
TRACK YOUR SPENDING
Promptly review your monthly reports from your bookkeeper or accountant. If you see that money is being wasted or you miscalculated what you would need, then make adjustments for the following months.
For personal expenses, it will pay you (literally) to keep track of what you spend as you spend it. When you write it down, you can't ignore it.
PAY WITH CASH OR CHEQUE INSTEAD OF CREDIT CARD
Not so easy to do because of the convenience of carrying plastic. And perhaps not completely practical for every item you need in business. Personally though, if you take out the cash you budget for a week, and only carry on your person what you plan to spend in any shopping trip, it will give you a great feeling of control. It will force you to think twice before picking up something that's "just adorable" on a whim.
SWAP BETWEEN ACCOUNTS BUT DON'T OVERSPEND ON THE TOTAL
The Envelope Method required dividing the month's cash into envelopes for each type of budgeted expense. As you withdrew money and spent it on, say, groceries, you recorded the amount on the outside of the envelope and put the receipt inside. If you saved on groceries, but needed a bit more for entertainment that month, you could transfer funds to the entertainment envelope, but once all the cash was used up, that was it for the month. Technology makes it both easier and more difficult to stay on track this way, but it's a good model to consider in your planning.
LEARN FROM YOUR EXPERIENCE THIS HOLIDAY SEASON
Pay attention to what happens to your spending during the holiday season. Then commit to making next year a model year, in which you stay on budget and have the time and energy to do the things you love, instead of stressing out about cash flow.
Happy Holidays!