Your Launch Pad for Success in the New Year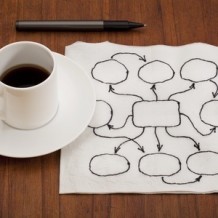 You have a much better chance for success when you clearly define your goals in writing. This can be verified with your own experience as well as historically through research done with Harvard graduates. And this is one of the best times of the year to reset those goals and re-energize yourself for a highly productive and gratifying year.
MAKE IT REAL
Start with a piece of blank paper and some coloured pens or markers. Then mind map your way through these five steps before putting more detail into your plans for the coming year. (I like working with a sketch pad and fine markers for this exercise.) This visual helps you see your year as a picture on one page before getting down to the nitty-gritty.
Step 1: Look back over the past year. What are you grateful for? What did you do well? What didn't work as planned and what did you learn from that? What two or three things had the greatest impact on your results?
Step 2: Look forward to the coming year. Use your imagination to visualize what it will look like when you achieve your goals for the year. How will your actions contribute to the furtherance of your vision of a better world because you are in it? How will the achievement of your goals sync with those of your team and other members of your family?
Step 3: Map out your strategy, then flesh out your plan in more detail in another document. This will be your action agenda allowing you to budget, delegate, track and measure your progress. It is also a great tool to share your thinking with your team and stay motivated to take action. Quoting Jim Rohn: "…here is my definition of success: a few simple disciplines practiced every day." Include such daily disciplines in your plan.
Step 4: Seek help. For a bigger result, you will require other resources – people, skills, equipment, marketing and likely a coach or consultant to help you set up your new plans and facilitate communication and accountability for yourself and your team. Implementation is the hardest part of any plan and these resources help smooth out the learning curve for you, saving you time and money, and accelerating the journey to your success. Include all of these helpful resources in your mind map.
Step 5: Collaborate. A simple word with a powerful purpose – to work jointly on an activity or project to produce or create something bigger or better than either of the collaborators could do on their own.
"Whatever you can do or dream you can, begin it. Boldness has genius, power and magic in it!"
Johann Wolfgang von Goethe