Who's Your Mayor?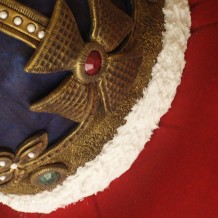 Want to earn some great word-of-mouth advertising for your business and drive your customer retention scores up? Whether you're a beauty salon, a retail boutique, a professional office or a coffee shop, chances are almost certain that one of your customers has been crowned "the mayor" of your location on the smart-phone application known as Foursquare.
Do you know what Foursquare is? 
Foursquare is a free game played on smart phones. People "check in" to businesses and other locations, and accumulate points. There are fun "badges" to be won and if they are the most frequent visitor of a location (like your store), they are crowned "mayor". It's a silly game, but it's fun and over 2 million people are 'playing' it.
Do you know who your mayor is? 
If you don't, find out today. Right now. Why? That person is already taking the time to 'check in' each time they cross your doorstep so that all of their friends and family know 'where' they are and oftentimes 'why' they're there. The mayor may not in fact be your best customer or even your most valuable customer, but they're more likely to be one of your hidden fans that will tell their friends and families about the great (or bad) experiences they're having while they're out and about doing their daily business. The information not only goes to other Foursquare "players" but is often shared with their friends on BBM, Twitter and Facebook as well. (And the average Facebooker has about 200 friends!)
Most business people don't need to be told twice that if they can make that customer feel like a king (or a mayor) it will generate the kind of customer feedback they can capitalize on. The secret? Each check-in allows the player to add a comment, a shout-out, a compliment or a thought. That's where the gold is. That ups the ante beyond a mention and into an endorsement.
Find your mayor!
1) Go to foursquare.com (you can do that without a smart phone) and create an account.
2) In the search box (top left) enter your business name and location.
3) When your business information pops up, look to the right of the screen. You will see an icon labeled "mayor". That's who your mayor is.
Remember that in Foursquare, checking in is a choice. If a customer wasn't happy to endorse your business, they would skip the check-in process all together and just go about their business. The context of a check in says: "I am doing business here. Come do the same."
How your business could or should use Foursquare is up to you. Use your imagination. Try different things. Be clever. Have fun with it. Give your mayor VIP treatment next time they come into your store. Offer a discount or a gift while you're at it. Set up a "mayor parking" spot outside. Address them as "Mister Mayor" or "Your Grace," when they walk in. It's up to you. Have fun with it. Give them more reasons to spread the word.
Take charge and participate. If you're lucky, you will beat your competitors to it. Positive customer feedback and improved customer retention await!