While the Cat's Away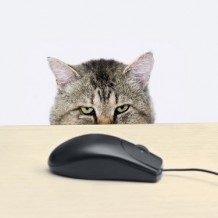 With my publishing business, I spent a lot of time on the road – speaking at conferences, running public and in-house workshops for our clients, and talking with insurance and mutual fund head office executives about how to improve sales and retention using our newsletter services and training programs.
Back in January 1991, while I was off on one of those trips, this was the editorial Rhonda Lipton wrote for our Great Ideas newsletter – a bi-monthly value-added service for our clients.
Mary Lou, our publisher, was going to write a great article about the things she learned from our clients at her recent seminars in British Columbia. However, since she is once again out of town, we decided to do an article about what it's like around the office when the chief is out selling.
Probably one of the hardest parts of being away for any C.E.O. is the feeling that things might not get done. But with proper delegation, things run very smoothly when the troops are left alone, even if projects do get done a little differently.
What's it like for the rest of the team when the chief is away? Contrary to popular belief, the mice don't play when the cat's away! As well as having new projects to handle, all of us must do work as usual without the guidance of the head decision maker. Sometimes that means having to fill the shoes of someone whose feet are much bigger than yours!
One of the best things about the way our team works is the fact that input from everyone is encouraged in all projects. That makes each of us a decision maker. This helps boost confidence tremendously, and makes it less nerve-wracking when we are left alone.
We also share our training with each other. Any time one of us takes a course or attends a seminar, we fill the others in on what we've learned. In fact, I've been to training sessions with Mary Lou. That helps because we get a good idea of how each other does things. Then, when it's time to take over someone else's responsibilities, we have a better idea of how they'd like us to do it.
No matter how often Mary Lou is out and about, she is sometimes surprised, but always satisfied at the outcome of the projects she has left. By setting the guidelines and quality standards and allowing each of our individual creative styles to show, she can be assured of a top-notch product every time.