Wheel of Success Referrals-Based Business Model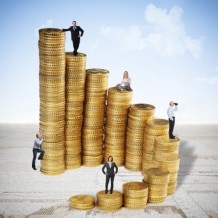 Magnetic Business Solutions (MBS) is the name I've chosen for my company because all of us as entrepreneurs have to pay attention to attracting great clients and having them stick with us.
Yes, we have to prospect. And yes, we have to sell. But we also have to create a system with all of the processes and procedures to build an ever-growing, more profitable business year after year after year.
That's why, decades ago, I created this concept called The Wheel of Success System©.
You are the hub of your own Wheel of Success. The spokes of your Wheel of Success are the skills, coaching, mentoring and marketing support that empower you to build a lasting business by achieving these three objectives:
Continuously expand the amount of business with existing clients. Strategies: 1. Raise prices as you add more value; 2. Add other products and services through client feedback; and 3. Develop longer-term contracts with clients.
Generate quality referrals. Strategies: 1. Clearly identify Your Ideal Client Profile*; 2. Develop a system for creating a steady flow of referrals from clients and referral buddies; and 3. Create alliances with Centres of Influence.
Turn prospects into clients more easily. Strategies: 1. Follow up faithfully with referrals; 2. Use testimonials from existing clients to establish trust; and 3. Make your marketing strategy all about education.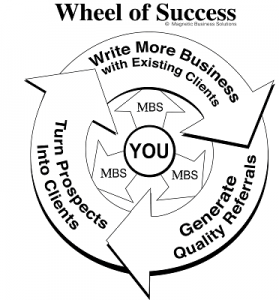 MORE CLIENTS AND HIGHER AVERAGE SALES
I call this The Wheel of Success System because, like a wheel, it keeps on rolling through this continuous cycle. When you improve the quality of your referrals using your Ideal Client Profile as a model, and those referrals become clients, the number of clients and the average income per client also increase. Thus, your Ideal Client Profile is enhanced, leading to an even higher quality of referral.
BONUS – INCREASED LOYALTY AND MORE PROFITABLE PRODUCT LINES
As a bonus, you also increase the loyalty of your clients by allowing them to help you bring in clients they already like and trust, and by providing feedback that helps you increase and refine your product line to serve them.
Some people describe this as creating a "Tribe" or a "Community". Whatever you choose to call it, it definitely works as the foundation of any successful business.
EMAIL ME FOR THIS FREE WORKSHEET
For starters, email me at MaryLou@MagneticBusinessSolutions.com and request a worksheet for creating your own Ideal Client Profile. * I'm always happy to help.
The Wheel of Success System © 1991 Mary Lou Gutscher