Staying Motivated When the Weather is Nice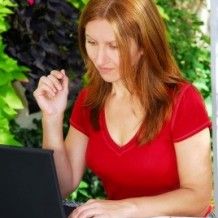 One of the top reasons people become entrepreneurs is to have more control over their work/life balance. What does this mean for you? It means flexibility. You can create your own schedule, work from wherever you want, and set your own hours. You can even take time off when the weather is nice.
For those living in the northern temperate zones, the arrival of summer is often associated with work demotivation. Since there are so few really pleasant days in a year, it's easy to get distracted from your business. But you still have clients to serve. So here are a few ways to stay motivated when the weather turns nice.
Reward yourself. Set a goal, such as getting those phone calls completed, and then reward yourself with a short walk around the neighbourhood, or a glass of iced tea on the patio. If you find it difficult to schedule those breaks "just for yourself", arrange to meet a friend at a certain time to increase your commitment to the summertime work break.
Reorganize your schedule. If you have flexibility in the time of day you work, try making adjustments to your schedule so that you can enjoy the best parts of the day. Get up earlier and be productive while the temperature is still cool, or work later at night when the mosquitos become ravenous. You can still have a fully industrious day while enjoying the great weather.
Work outside. Why not be productive and enjoy the weather at the same time? Take your phone and laptop out on the patio and enjoy the glories of nature while still being productive. Or set up your mobile office in a nearby park, pack a picnic lunch and take a walk. Just don't forget the sunscreen!
You can have all this – fun in the sun with a redesigned workflow – while still providing outstanding service for your clients. In fact, these small breaks create even more motivation to focus on your priorities between breaks and can improve, rather than detract from your productivity. How much better can it get than that?