Magnetic Trade Shows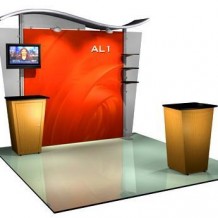 Learn the Secrets to a Magnetic Trade Show Experience!
You've poured your heart and soul into a trade show, you've come home with a stack of cards and draw ballots (and aching feet) and you're happy about only one thing – that it's over! The only tasks remaining are to clean up the exhibit, find your prize winners and execute your follow-up plan. Tomorrow… or maybe the day after… or next week….
Let's face it, trade shows are exhausting. And there are plenty of companies who will help you get your exhibit branded and ready for prime time, but there are very few that can help you to create a business plan so that you can accurately measure the results of your investment.
This one-day workshop will teach you the secrets to creating a magnetic trade show experience – one that reignites your passion for your business and delivers a boatload of qualified business prospects. You'll come away with insight and practical knowledge on how to:
• evaluate the trade show promoter's hype
• choose the trade show that's right for your business
• create realistic and measurable goals for what that trade show can deliver
• create a solid action plan to guide your activities before, during and after the show
• increase profitability and drive new customers to your business
You'll learn how to plan your offer, draw attention to your exhibit, plan your giveaways, handle difficult guests, gather prospective client information, engage and qualify your potential customers and more. You'll learn practical steps to plan your post-show activities – how to pursue hot leads, warm up cool leads and prioritize your initiatives so that you can pace your energy to stay the course.
Call 780-908-0309 for more information.