Let Your Fingers Do The Walking… Away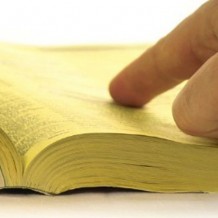 In conventional retail wisdom, the three keys to retail success are location, location and location. So it always stood to reason that a comprehensive yellow pages directory presence would be the single-most important marketing tool for any retail start-up. After all, if you have a great location and you can let your potential customers know, you've got a winning combination.
If a significant amount of your marketing spending is consumed with yellow pages directory fees, it may be time to pause and reset your thinking. Here's why:
In an environment of smart phones and Google search, many consumers (most in some demographics) find it quicker and more efficient to look online for services than the traditional directories. No reading glasses required, no category to guess and for some, the computer is much easier to find than the book.
If a straw poll among your clients still leaves you skeptical, consider the benefits– from a business perspective – of shifting your emphasis to your online search results. Online promotions can be modified frequently, whereas print listings are cast in stone for 12 months or more. Most online services – most importantly Google Places – are FREE.
Based on the feedback you receive to your straw poll and your initial scan of how easy it is to manage your online presence, it is highly unlikely that you will need to have a display presence in more than one category of the Yellow Pages and can reduce all secondary placements to a 'listing only' style. Many business owners have cottoned onto that fact and that's why the directory people are now also trying to manage your online marketing with myriad services for all kinds of businesses.
It's a natural progression for a 'buggy whip' business to expand its services. But do you really want to trust a company the size of Yellow Pages with your  marketing strategy?  Make sure you are working with someone whose business judgement you trust – someone who understands YOUR business, not just the business of advertising.
It's worth a small investment of time to determine whether you can do more with less. It gives a whole new meaning to the old slogan: 'Let your Fingers do the Walking" …