If Your Only Tool is a Hammer…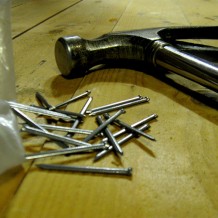 If your only tool is a hammer, is it any surprise that every problem is treated like a nail?
That's the essential dilemma that small and medium business owners face when looking for support in their marketing efforts. It's no secret that ad agencies always recommend advertising, that web designers always recommend a website and that graphic designers always recommend brochures and other physical collateral pieces.
Last year, I decided to use a marketing strategist – virtually – instead of a website company to look after my marketing, even though the website has always been the centrepiece of my marketing strategy. I will never go back to my old ways again.
My marketing strategist is my "marketing director". I only need to coordinate with her and if she needs specialists, she finds them and manages them. More time for me to focus on what I do best. Less anxiety. Now, not only do I have top-notch expertise, I don't have full-time management and overhead of in-house staff. I get on-time delivery of marketing strategies and she's always one step ahead of me in keeping the strategy in focus. I'm even able to get more of the sleep I need to keep up my energy for my clients!
Results – The Name of the Game
Best of all, because I'm now free to focus on what I do best (serve our clients), my sales have doubled quarter over quarter since hiring my Marketing Director. To help with the math, sales for my business have increased 400% in the past 7 ½ months, and they're on their way to 800% by the end of this quarter. My Return on Investment from hiring her has shot way off the charts! (Next step is to hire an executive assistant with outstanding client service skills to help me manage this increase in business.)
I am living proof that most business owners are not marketing specialists. There's a lot of trial and error involved, which is costly in both time and money. An independent marketing strategist should be able to look at your business problem – whether it's to build members, add clients, fill capacity, sell more products, earn repeat business – and determine what role each marketing tactic can play and eliminate any that aren't supporting your business goals. What's more, they will integrate your efforts across the appropriate channels and tap into the right specialist for every task along the way.
As a business owner, you have much to offer your clients. But, if you're not seeing your marketing plan producing what you expect in a meaningful (and economic) way, let's talk! Call me at 780-908-0309 or email me at marylou@magneticbusinesssolutions.com to chat about your marketing challenges and potential solutions.