From Shy to Schmoozer: 10 Tips for Business Networking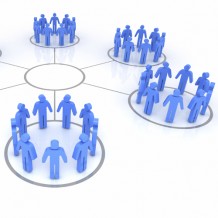 If the thought of networking in a room full of strangers starts your knees knocking, rest assured that you're not alone. In addition to being prepared beforehand (see 5 Things To Do Before You Walk in the Room) here are 10 simple tips for making the most of your next business networking event.
1) Eat before you go. Networking is best done 'hands-free' – leave plates, glasses, portfolios at the table. If you're forced to carry something, make sure you can do it easily in your left hand, so that your right hand is always free.
2) Remember, everyone is there for the same reason as you are – to connect with other business people who might potentially become clients or whose services might be helpful to you or someone you know. This is not the time to try to sell something on the spot but to meet and get to know some new people and to start building some solid business relationships.
3) Put your name badge on your right side (not your left, which is the intuitive thing to do) because you greet people by shaking with your right hand which puts your badge in clear view and avoids awkward stretching to read your badge.
4) People love to talk about themselves so ask them why they decided to attend this event. How did they get started in their business? What are the things they like most about it, etc. Listen for clues that will help you decide whether this person might be a good contact to develop a longer-term mutually beneficial relationship with.
5) Read the newspaper on the day of the event so that you're not caught flat-footed on today's headlines.
6) Be prepared to handle questions like "What do you do?" with a simple, 10 or 15 second elevator pitch or infomercial that tells the listener what you do, for which type of client, that solves which specific problem for them.
7) Carry a pen to make notes on the cards you collect – date, function/event, other relevant details. Also make a note if you think the person you have just met would be worth introducing to someone else in your network.
8) If you need to start with baby steps, ask someone you know to introduce you to someone you particularly want to meet.
9) If you're nervous or ill-at-ease, the best way to relax is to stop thinking about yourself and how anxious you feel, and concentrate completely on the other person. One strategy is to approach someone else who is standing alone (likely feeling as nervous as you are) and finding ways to make them feel at ease!
10)  Act confidently even if you're not.  You may not like the expression "fake it 'til you make it!" but the truth is that we become good at what we practice, so practice acting confidently with your shoulders back, head up and a smile on your face.