Business Coaches – Why Rock Star Entrepreneurs Use Them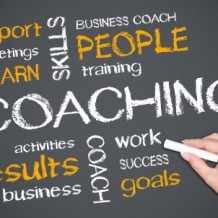 Imagine for a moment that you know a very talented athlete.  How did that person become so talented?  Of course, there was likely plenty of natural ability, but that only goes so far.  Athletes that continue to excel beyond their peers almost always have a coach (or coaches) supporting them along the way.  I challenge you to think of a single athlete that made it to the Olympics without the help of a coach.  Even Eddie "The Eagle" Edwards was coached before his infamous ski-jumping attempts at the 1988 Calgary Olympics.
It's the same for entrepreneurs.  There are some very good entrepreneurs out there, talented entrepreneurs, who have a good grasp on what it takes to make their businesses successful.  Yet if you look at the entrepreneurial Olympians, like Oprah and Donald Trump, virtually all of them have business coaches.
How do you know when it's time to find yourself a business coach?
You have a strong desire to learn and grow.
You want to improve your chance of success during a change or transition.
You need someone who's 'been there and done that' to act as a sounding board.
You need help looking at the big picture of your business, and your life.
You need candid feedback about the strengths you bring to the business and where you need help.
You need help identifying and assessing business opportunities.
You need to tap into a larger network.  Business coaches tend to be connected to many other business people, in a variety of industries.
You need motivation and encouragement.  Sometimes entrepreneurs do not have anyone holding them accountable for achieving the goals they have set for themselves and their businesses.  A business coach can help.
You need help in balancing your business and personal life.
You need help with your vision, setting appropriate goals, and creating a plan.
Essentially, any time you want support in getting from where you are to where you want to be in your business, whether you already have a current business plan or need help creating one.
An effective business coach helps you clarify your business and life vision, works with you to set goals to realize that vision, helps you prioritize tasks and activities, observes your performance, provides candid feedback, and ensures you grow as an entrepreneur and a person by challenging you.
Oh, and a business coach can be your biggest cheerleader, so take action today!