Attending Networking Events But Not Getting Referrals?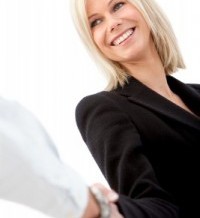 People who attend business networking events are there for one reason – to network with other business folk, for the purpose of building their businesses.  So it makes sense that attending networking events would be time well spent.  Yet many attendees have said that networking events are a big waste of time for them, that they never get any resulting business.  Before giving up on them entirely, try these simple tips to avoid the most common mistakes made if you go to the networking event unprepared.
SET GOALS FOR EACH EVENT
The old adage says, if you don't know where you're going, any direction will do.  It's the same for networking events.  When it comes to setting goals for the event, be realistic.  Your real purpose is to find people who would make good referral buddies, people with whom you can share business referrals.  Here are a few sample goals that keep you focused on positive results:
 Meet someone who shares the same kinds of clients as you.
 Find someone who fills a gap in your referral team.  For example, if you have friends asking you if you know a good housekeeper, make it a goal to find a good one you can recommend.
 Practice your technique.  For example, practice getting other people to talk about themselves first, so that you better understand their problems and challenges and those of their clients before you speak about what you do.   That way, you can tailor your own response to the needs of that person and his or her clients.
BE PREPARED FOR THE TWO MOST FREQUENTLY ASKED QUESTIONS
The two most frequently asked questions at a networking event are:
What do you do?  So get over whatever confusion you have about what to say, and develop a simple, straight forward phrase that answers the question and at the same time leads your listener to want to know more. Instead of, "I'm in the skin care business," you might say "We work with professional women to help them build confidence by always putting their best face forward."
Who are your clients? This often elicits a very vague, all-encompassing answer because you don't want to exclude anyone from becoming a client. .  So instead of saying "I work with small to medium size businesses", you might want to instead say "We help heads of family-owned businesses to communicate more effectively with their family employees." It's actually easier to categorize people by the problems that you solve for them than by the commonly-used marketing categories.  The funny thing is that we do know what we do and what our clients are like, yet we still seem to be caught off guard when asked.  Since we know that someone will ask us these questions, it makes sense to prepare for them.
If you've been struggling at connecting with people at networking events and building your referral team, don't give up just yet.  Take a look at these two things prior to arriving at an event and see if they can use some work.  I bet you'll find business networking will start to work that much better for you.
Happy networking!