5 Things to Do Before You Walk into the Room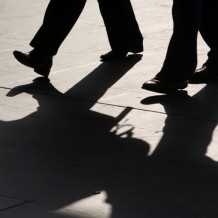 Even though LinkedIn has migrated a lot of networking activities to an online forum, there is still no substitute for a live-and-in-person event. And regardless of what kind of business you're in, or what kind of event you're going to, if you're going to meet potential contacts for your business, you can face those events with confidence.
Here's our 5-pack on what you can do in advance.
1. Pick the right event
It sounds simple enough, but before you go to an event, make sure you've checked out whether the people who will be there are relevant to your business and your expertise.
2. Work the technology
With many online registration systems, (LinkedIn, Facebook, Evite, Meetup) you can check the guest list online to see who's going to be there. If it's an old-school registration system, get there early and check out the badges on the registration table before they're scooped up. You'll be able to see who you know and who you want to know.
3. Set a goal
You'll be able to resist idle chatter with old friends if you've got a target in mind. For example, it might be realistic to check out a competitor, scope out a group or introduce yourself to a new prospect. Once you know who's going to be there, you can set your goal of who you want to meet and why.
4. Practice the pitch
You've heard of your elevator speech and this is the time when you'll need it most. The single most important thing you want people to remember is what specific problem you can solve and for what specific type of client. You've got 15 seconds to make your impression. Practice it until you have it down.
5. Look the part
It's a piece of old-school advice, but you'll still need to dress for success. Whatever industry you're in, there's a dress code in effect. Take the time to prepare physically as well as mentally.
Remember: networking is not about luck. It's about being prepared to make the most of the opportunities that come your way, and doing it with style and professionalism. And it helps to practice. That's why we offer our clients a monthly meet-up — a risk-free opportunity to network with like-minded professionals. Check our website for upcoming events and join in.