Three Tips for Outstanding Customer Service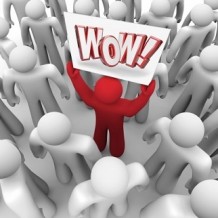 Great customer service is an experience that surpasses the customer's expectations. This usually happens when employees are empowered to use their own judgement within a broad set of guidelines, to make sure that the customer is happy. It can be fun, the daily experience of employees and clients of WestJet (my favorite) or North West Air. Or it can be quick, unquestioning service as I have personally experienced when shopping or making returns at Staples.
Here are three customer service best practices to beef up in your own company;
Know your customer. Whatever the common profiles of your clients, find how they like to be addressed (e.g. by first name), how they like to communicate (e.g. in person or over the phone), their wants, needs, pain points and complaints, and the language they use. To be credible as a high-tech company, you have to speak tech language at the level of your clients' understanding. If you are a financial advisor with three distinct client groups – retired seniors with large portfolios, young couples that are new to investing, and environmentalist investors – you must understand the nuances of the communication differences of each group.
Correct mistakes promptly. Your clients will likely forgive small mistakes. But no amount of goodwill and friendliness will excuse repeatedly making the same error. Acknowledge and apologize for your mistakes, resolve to make them right for the customer, and then make whatever changes are required to avoid the problem again. The on-going resolution could involve retraining your employees, making changes to company policies and procedures or refining supplier specifications. If there is to be any delay in resolving the error, keep your clients in the loop about when they can expect a permanent resolution.
Consistently deliver on your guarantees. Guarantees, such as money-back satisfaction and no-risk guarantees, are great for bringing on new clients that otherwise may not have purchased from you. But unfulfilled guarantees will hurt your company's reputation and profitability. For example, if you pay for a service contract that guarantees service within 4 hours and it takes two days to get anyone to call you back, what value does that guarantee have? In fact, an over-promise can do more harm than no promise in the first place. On the other hand, when a supplier promises a money-back guarantee and then responds quickly, provides for pick-up of any defective items, and immediately provides a replacement or refund, the value in word of mouth marketing is tremendous!
Outstanding Customer Service requires constant attention and continuous tweaking to keep ahead of client expectations. Commit today to creating the kind of company that people rave about and that makes word of mouth marketing work overtime for you.