Speaking Engagements: A Highly Credible Way to Grow Your Business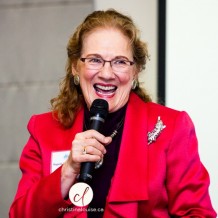 Not everyone is a professional speaker, whose income comes directly from speaking fees. But anyone, including you, can be a public speaker.
When you are at the front of a room of people gathered there to hear what you have to say, you have been granted a marvelous gift: The gift of potentially undivided attention. This is a time to share some of your knowledge and wisdom to help the members of your audience move forward toward their goals – whatever those goals may be.
When you do that well, you are seen as someone they can trust. And trust is one of the three main things required to even be considered as someone to do business with. They have to Know, Like and Trust you or it's a no go.
In fact, speaking engagements are so valuable for your business that you will want to pursue those opportunities wherever they can be found. Your expertise in exchange for an audience to address is a great value exchange for both of you. Here are a few tips to do that, and to make the most of each speaking engagement.
IDENTIFY YOUR TARGET AUDIENCES
Who are your ideal clients and where would others like them gather to hear a speaker? Make a list of those events and organizations, find out when and where they meet and who is in charge of their speaker programs.
CREATE A LIST OF TITLES AND TAKE-AWAYS
What would these audiences likely want to know, that you are expert enough to teach them? Can you provide health tips, business tips, or methods for improving relationships or dealing with conflict? Write down three or four likely topics, then for each topic, write down three things that the audience will take away from your presentation. In other words, What's In It For Them.
CREATE A BRIEF BIO
Describe who you are in one or two simple paragraphs that answer the question, "What qualifies you to teach on this subject?" Include a professional photo and contact information.
MAKE YOURSELF KNOWN TO THOSE WHO BOOK SPEAKERS
Contact the event planners for these groups and let them know that you are available to speak on a variety of subjects of interest to their members. Make it known that you are willing to step in and help out any time a speaker has to cancel.
OFFER A DRAW PRIZE IN EXCHANGE FOR INFORMATION
Make your draw prize something of high value, such as a free massage, assessment or coaching session – not just a discount coupon. Include a question on your draw slip that lets you know where that person stands in relation to the topic. For example, what I do is to ask them to write the answer to this question: "What is your biggest business challenge?" along with providing their contact information and a check box to allow me to add them to my email list.
FOLLOW UP
Anyone who gives you their contact information in whatever form should be contacted within a week. Sooner is better. If it's only a small group, make it the next day. The first thing to do is to email and say thank you, both to the event planner and to the participants. Follow up the hottest prospects by phone as soon as possible. That impresses the audience more than almost anything else you can do, because so few actually do follow up.
Take this seriously as an outstanding way to develop credibility for yourself and the products and services you offer. And if you need any help with it, just drop me a line and I'll be happy to do that.
Cyberhugs,
~ Mary Lou
MaryLou@MagneticBusinessSolutions.com
780-908-0309