New Year's Resolutions for Small Business Owners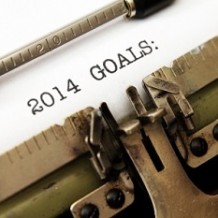 I am not particularly a fan of setting New Year's resolutions.  They often fail, primarily because they are made as a means of motivating myself for changes in behaviour that are unrealistic or to which I'm not really committed.  However, the turn of a new year is as good a time as any to set business goals.  Here are a few goals that you can consider for 2014.
Build your mobile presence.  If you're like me, you've come a long way in adapting to the digital world, but there are still areas where I feel like kicking and screaming just the same. This is one of them. But here's a startling fact. By next year, more people will be accessing the Internet from their mobile devices than their PCs.  You may even be finding that tendency now in your own behaviour.  Are you currently catering to that mobile population?  Take a look at your website from your mobile device.  Is it easy to navigate?  Or is it easier to go to a competitor's website?
Find another way to connect with new customers.  It's important to show up where your customers are hanging out, whether it's on Facebook, Twitter, at networking events or in the neighbourhood café.  You don't need to be an expert in every marketing area, but you need to know enough that you can connect with your audience.  If you are unsure where your customers hang out, ask some of your current customers.  And add one more tool to your marketing repertoire this year.
Make time for yourself.  As a business owner, you are solely responsible for the success of your company.  And much of that success will only be possible if you are healthy, energized, rested, and thinking clearly.  When setting your work calendar, start with the time periods you will put aside for resting, travelling, spending time with family, and thinking.  You can divide your calendar into "Rejuvenation", "Productivity", and "Preparation" time periods, if that makes it easier to plan, with the "Rejuvenation" periods being put aside for non-work activities.
Goal-setting and resolutions do not need to be annual processes.  In fact, goal-setting should be much more frequent than annually.  But since more than 50% of the population makes resolutions at the New Year, make those resolutions realistic and attainable.  And more importantly, make them goals that you really want to achieve.