Networking: It's More Than Who You Know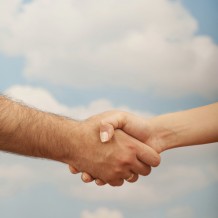 In general, business networking events provide an opportunity to meet many other people with similar interests – to grow their businesses through networking.
It's all based on the premise that we each know an average of 250 other people, so each relationship has the potential to lead us to at least one of those people who might need our services.
Networking skill does matter, for sure. And part of that skill is becoming a hub for others – the "go-to" person who knows a lot of people and who can introduce a potential supplier to solve just about any problem or need your clients could have. A business coach can refer a home builder. A dentist can refer a property manager. And each of them can be seen as a reliable source of contacts for their clients.
Going one step further, SMART networking goals include building a Power Team of referral partners where you share common clients, and/or where you solve similar problems for clients using different and complementary solutions.
For example, a person buying a home would need a realtor, a lawyer, a mortgage professional, an insurance agent, a home inspector, a real estate appraiser, and potentially an interior designer, a landscaper, a contractor and a variety of building supply services.
That's a Power Team of potential network buddies. Try this exercise.
Write down a description of your ideal client and the solutions you offer for their specific needs. Then make a list of potential Power Team Members. Whether you are already connected to these professionals or are just looking to expand your Power Team, write in the names of those who might fit.
Then, be purposeful in your networking to find the individuals who can be part of your Power Team. That's the beginning of building a profitable referral network.
The next step is to develop a strategy for training them how to help you, and for teaching them how to train you to help them. A good strategy is to arrange a coffee or lunch meeting with one of your Power Team members each week with the purpose of keeping up to date with each other and getting to know more about your respective businesses as your relationship develops.
If you had a dozen Power Team members, you could meet with each of them four times a year (once a quarter) and still have a spare week each quarter to plan your strategy.
When you scratch the surface of some of the best networkers you know, you'll almost certainly find a version of this strategy in action. That's because it works!