Make Your Telephone a Business Magnet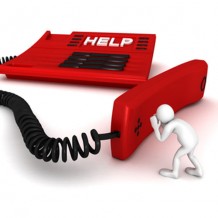 In this age of the internet, so much of our communication is only one way and disconnected from real time. We send out a newsletter. We email someone. They email back. We post an idea or an event on Facebook and broadcast it to our "friends". We "tweet" and hope that the message will be passed on. While it's good to stay front of mind, a solid relationship requires a lot of one-on-one time. That means either being in the same place at the same time or getting together on the phone or some other form of live chat.
In this one-day workshop, we'll re-introduce you to the telephone and provide you with a solid schedule of tips, tricks and tactics that you can use to integrate it back into your marketing plan. 
Is your fear of the  telephone holding your business back?
We'll re-introduce you to the telephone and the magic of  speaking with your clients live – clients you already have, and clients you're hoping to do business with. You'll come away knowing what to say, who to call, and because you will have practiced and been coached in a safe environment, you'll have the confidence to get back on the phone and accelerate your  business.
You'll learn  how to design an effective telephone script to increase business with your current and past clients. Scripts for:
• Customer Service Calls
• Warm Prospecting Calls
• Invitations to Events
• Voice Mail Messages
• Referral Calls
• Reminder Calls
• And more!
In addition to the scripts you prepare and practice on site, you will be provided  with customizable templates to modify for whatever telephone campaigns you need  in your business.
You'll role play and practice techniques to build your confidence and increase your skills. You'll also learn who to ask for referrals and when to ask without ever feeling awkward. And most importantly, you'll learn to love the telephone again.
Bring your laptop and we'll help you build and test your own personalized scripts, role play with other participants, get coaching and peer feedback and walk away  at the end of the day with confidence, tried and proven scripts, and a list of  people to call the very next day. You'll also receive planning and tracking templates to use every day in your business.
Call 780-908-0309 for more information.
What Others Have to Say
"I got five orders with my first six phone calls!" ~ NG Edmonton
"I adapted Mary Lou's scripts for voicemail and for when someone answered the phone then started calling. In one day, I increased paid attendance at my event from 14 to 29 participants!"  ~MT Edmonton