Honouring Freedom and Prosperity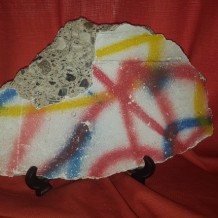 Tomorrow, Wednesday, November 9, 2016 we celebrate the 25th anniversary of the fall of the Berlin Wall.
Today, Americans go to the polls to elect a new president in what was once the Land of the Free.
Here at home, there's you and I and many thousands of other entrepreneurs, doing our best to do right by our clients, our families, our communities, and being willing to risk life savings and lost sleep for the freedom to do just that through businesses that we love, and for people we love.
Celebrate the fall of the wall, and corral your clients, not with steel and concrete, but with value and values that attract them to you and leave them better off than they were before they met you.
I keep this priceless souvenir of the human desire for freedom and prosperity, in a prominent place in my office, to remind me of the stark difference between persuasion and coercion. It sits right beside photos of my Mom, who loved and nurtured me, my Dad, who thankfully came home whole after the "liberation" at the end of World War II, and my children whom I love beyond description.
What is your "Why?".