Business Leads You Can Bank On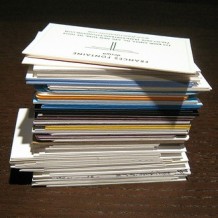 Forget Coupons, Groupons and Cold Calling! There's a wealth of new business leads right in your back yard! This one-day workshop will introduce you to a whole new way to market your products and services – magnetically! You'll learn that "gold doesn't always glitter" and that's the case in business too. You'll learn to recognize opportunity, shut out distractions and tune into amazing opportunities that are within your reach today! You'll be on your way to more measurable returns on your marketing investment after just one day.
What You Will Learn in this Workshop:
• The difference between "selling" and "networking" and the mistakes you might be making.
• How to build a database of qualified leads for your business without telemarketing, trade shows and coupons.
• How to listen for cues that will help you recognize opportunities in your day-to-day life, in your network, and with the people you meet every day.
• How to turn a casual conversation into a business conversation, without feeling awkward or uncomfortable.
• You'll practice new skills in a safe and welcoming environment and, you'll come away with a written marketing plan before you leave that you'll be able to implement immediately!
Call 780-908-0309 for more information.