Tweets and Tweeps: Top 3 Business Uses for Twitter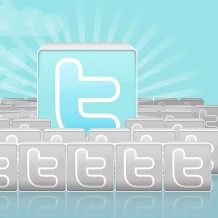 If you're dipping your toe into social media waters for the first time, you'll likely hear a whole lot of twattle over Twitter. What's all the fuss about? And more importantly, is it worth your time? Here's a quick 6-pack about Twitter to help you decide whether you should start tweeting for fun… or profit.
1) It's easy to start a Twitter Account. You just need an original 13-character name. Easier than it sounds with over 300 million users and only 13 characters each.
2) You choose to 'follow' other Tweeters…  and polite custom dictates that they should follow you back.
3) You have only 140 characters but you can add a link to a website for more information or content.
4) If you send a simple tweet, only your followers can see it. If you don't build up a following of relevant customers, you're posting for fun, not profit.
5) You can follow other tweeters and comment on their tweets. The idea is that you join in on the conversation.
6) Conversation topics usually also include hashtags (#) which means that you can follow a topic instead of a person. When people include a hashtag, they'll be talking about a single current topic (like an election, or a football game, or a conference that they're all attending), with like-minded tweeters, who may or may not be your followers.
Those are the basics. But, of course, it's not quite that simple.
• Over 50 million tweets get launched each day so getting heard above the noise is getting tougher by the minute.
• The bulk of tweets for business contain links to other information – blogs, websites, Youtube videos, photographs.
• Research shows that the 'shelf life' of a tweet is approximately 45 minutes. After that, your tweet is buried too far down the timeline to be noticed or read.
• It takes a long time to build an audience of qualified and relevant followers. In the meantime, your message will be seen by very few.
• Twitter etiquette is evolving quickly and what was considered polite last month is practically considered spam this month. It's tough to keep up without looking old school.
That said, we've seen a few very practical business uses of Twitter:
• Restaurants posting the daily lunch special to followers who are nearby.
• Nightclubs posting the entertainment schedule, contests and prizes.
• Salons and spas offering last minute schedule fillers at a discount.
Have you seen any other great business uses of Twitter?
By the way, we're on Twitter: @MagneticML