Trade Shows – Profit or Pain?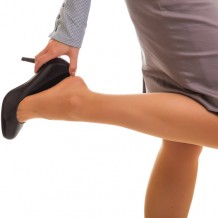 Let's face it. Trade shows cause pain. Where else would you willingly stand for hours on end on a concrete floor? And, force yourself to keep smiling through the pain too?
Seeing profit from trade shows is another thing entirely. Profit requires planning. Start by asking yourself, "Should I invest in a trade show at all? And, if I do, how do I cut through the trade show promoters' hype and choose the right trade show for my business?"
Before you commit to attending any trade show, here's some things to think about:
• Be clear about who your target market is and which trade show serves that market.
• Be clear about what your headline message is that will attract qualified prospects to your booth. A free draw can capture contact information, but it shouldn't be your main message.
• Ask some previous exhibitors for their experience and results; looking for honest feedback.
• Be realistic about the time and money attending a trade show will take (i.e., the investment in a booth, signage, promotional materials, time away from the office, who will cover for you while you are gone).
Remember, this is just step #1 for turning trade show pain into profit, so do your homework. Your success depends on it!
Call 780-244-0895 or click for more information and to register.