Social Media: Is It Substance or Just Bling?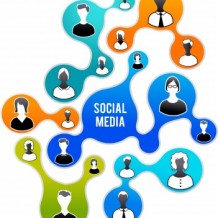 Don't be fooled by promises of quick sales through social media. You need to drive a huge amount of traffic to your website, only a small portion of which will actually ever do business with you, before you can count on revenues from your efforts.
New Marketing, as Seth Godin calls it in his book "Meatball Sundae" really only works if your business model is designed in a New Marketing way.  But even before you've revamped your business model, if that's what you decide to do, social media can be confusing, time-wasting and, well, downright exhausting.  We hear it every day.  "You need to be on Twitter.  You need to be on Facebook.  You need to be on LinkedIn.  You need to be on Google+.  You need to be on Pinterest."  It all seems so overwhelming.
We know we need to tap in to these virtual communities and networks.  But how?  Using which applications?  How often?  With what messaging?  And will we be able to sustain it?  The Internet is littered with advice on how to grow your business using social media – make a YouTube video, scan your thank you letters and post them on Facebook, join a LinkedIn group, start a blog, post tips on Twitter.  Ugh…so much to do.  But is it worth it?
IT'S TIME TO THINK STRATEGICALLY.
Strategic thinking is not just about continuing to do what you've always done, hoping and praying that it will still work. It's not about throwing more money at advertising and discounts and brand name changes either. And it's not about changing tactics to achieve the same old strategic vision. Strategic thinking and planning are all about anticipating what your clients need and delivering it to them in the form and through the medium that they prefer.
Social media is about connecting to your tribe.  They will tell you what they want to buy, in what form, and how much they're willing to pay for it.  Find out where your clients hang out in social media and go speak to them there.  It will take time to convert people into clients, but if you listen to them, you will discover best how to serve them.