E-Mail Troubles: Spam or Scam?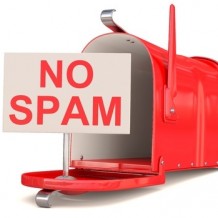 Spam is irritating. Who really wants to junk up their inbox with pitches for anything from updating your website to sex on line? In most cases, these offers are designed primarily to verify your email address and gather information about you for future spam. At best, they are unsolicited sales pitches.
More dangerously, Spam can lead to a much bigger, much more costly and dangerous Scam.  And internet defrauders have nothing better to do than to come up with the next great Scam. Don't be a victim.
SCAMMERS MASQUERADING AS TRUSTED AUTHORITIES
Scammers can now call themselves anything in the "From" email address part of the email.  Anything! Most common is an email that looks like it comes from a financial institution you may have dealings with.  These usually say that you are required to log in to the website provided and verify or change your password for security purposes.
First of all, no financial institution will ever email you such a request.
Secondly, the website you click on can be called absolutely anything the spammer wants to call it because that is not where the link will take you. For example, the web address Login at ABCBank dot com may or may not exist but the hyperlink behind it would take you to the site where spammers are gathering your login passwords giving them access to your financial accounts and allowing them to strip your accounts of all your assets.
A spammer can scoop the name and email address of both the CFO of a company and the CEO/owner and masquerading as the owner, order the CFO to make a wire transfer to a numbered account. This might be a routine process because of offshore plants or offices or for payment of commissions or other services overseas. In this case, the results would include not only the loss of money through fraud, but the potential firing of the CFO and great damage to his or her reputation.
SOME SOLUTIONS
Never reply to a suspicious email and never click on any links including the unsubscribe button. This will only verify that the spammer has a good email address for future tormenting.
If it's an email from a financial institution or a place where you have your credit card information on file, go online and log in to your account. If there is a special alert, it will appear on your account page. Forward the suspicious message to the company's spoof line. You'll find that information in the help section of any reputable financial company.
If it's a request from your boss or other person of authority and it involves sending money anywhere, call or text the person of authority to verify that the instructions came from them.
It's up to you to protect yourself from fraud. The best that legislation can do is to attempt to find the perpetrator and prosecute them. And they have far too many more urgent and easier to solve cases than that to keep them busy.
Stay tuned next week for an update on the new anti-spam legislation.